What Photo Paper Does Peter Lik Use?
Just about every day we are asked how to print like Peter Lik and if we can help artists (both pros and hobbyists) with what paper he uses so they can achieve that superior result. We get asked so often that we have written several helpful blogs about this topic.
"Have you ever seen Peter Lik's photography work?" or  "Do you know what photo paper Peter Lik uses?"
Our short answer is…
"Of course, and FujiFlex Crystal Archive HD Photo Paper."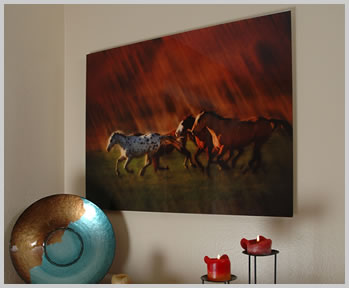 However, not all FujiFlex HD photo prints are created equal.  Just as Peter Lik or any professional photographer would tell you, there is quite a bit more to making a million dollar masterpiece than just using the same professional grade HD photo paper. It could take hours, days, or even years to capture the perfect award winning image. However, once you've captured your stunning photograph, you'll want to use the very best printing process available. FujiFlex HD photo prints will capture the full essence of the moment you captured that breathtaking image, with a true art gallery look to do your masterpiece justice.
ArtisanHD is well-known for our ability to produce museum-quality FujiFlex photography prints, which is due to:
A nearly 20 year history in color matching for some of the biggest name brands
Artisan's fully-equipped print shop with professional grade image creation devices
Our experienced professional print specialists
And once we've created your HD image, our high-quality online professional printing and image creation services don't stop there! In fact, our print artisans at ArtisanHD work just as hard to ensure your professionally produced photograph or digital artwork is masterfully finished and delivered without harm to ensure your artwork remains picture perfect and ready for display.
Your High Quality Photography or Fine Art + FujiFlex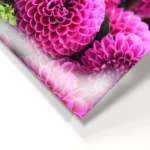 Not quite sure what FujiFlex is? FujiFlex is a silver-halide digital photographic paper with a polyester-based coating, making it super glossy and slick. Not just any photo printer can run FujiFlex paper. Since it's true continuous tone photographic paper, it has to be run through photochemistry to reveal the image.
This isn't just any old HD paper you can run through your home inkjet printer. With this process, the image is burned into the emulsion layer of the paper itself. Not one drop of ink is laid over the substrate to produce the image.
Unlike the good old days, instead of the image being burned into the photo media with light being blasted through glass lenses, we expose the paper with red, green, and blue lasers using an Océ LightJet 5000. The Océ LightJet uses technology originally designed by NASA, and is widely recognized to have the best detail and image quality in the industry. If you store and display your print properly, it should have a lifespan of 100 + years!
Acrylic Mounting FujiFlex: How to Prink Like Peter Lik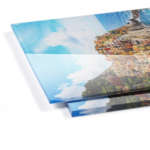 What really makes this FujiFlex Crystal Archive HD photo paper spectacular is pairing it with acrylic photo mounting. We do what is called a second surface mount onto acrylic, also called face mounting. What that means is that the acrylic mount is applied directly on top of the print. So, you look through the acrylic to see the print. FujiFlex HD Paper is well-known for its ability to hold amazing detail, giving you incredible low-light shadows as well as highlights that other papers (even high-definition printing papers) would simply not be able to capture.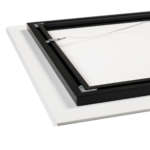 To finish off your acrylic mounted FujiFlex print, we suggest adding a Museum Wall Mount to 'float' your photography away from the wall. This is simply a wooden or aluminum frame attached two inches away from the back edges of your print. You won't see the Museum Wall Mount from the front once your print is hung on the your wall, giving your piece the appearance that it's actually floating off away from the wall – a very sleek presentation.
To order Fujiflex HD photo prints with acrylic mounting from ArtisanHD, follow these easy steps:
Step 1: Upload Your Photo to ArtisanHD to get your very own professionally printed custom print order started!
Step 2: Configure your custom print order:
Sizing – Choose exactly how big you'd like your custom acrylic mounted HD photo print to be. Our print artisans always want you to be satisfied with the quality of your large-format custom HD prints from ArtisanHD, so we've actually built in a file quality analyzer right into our custom print ordering process. The actual file quality of your uploaded digital file will be analyzed, and our custom online print ordering system tells you EXACTLY how big you can print the unique image you've uploaded. If the print size you select is actually too large for your uploaded file's resolution, it will provide you with a warning before you place an order that would potentially create a poor or low quality print output.
This size check is super helpful, especially if you're not quite sure exactly how big you can actually print your digital image, and ultimately means you don't have fret or worry about ordering a GIANT poor quality print!
Printing – Under the Printing tab, select "FujiFlex Crystal Archive HD Paper" as your print medium.

Mounting – For this step, you have a few choices. Select standard 1/8″ acrylic, or choose 1/4" plexiglass (acrylic) for a nice deep edge profile. If ambient light, or reflections from windows or spot lights are a concern, please select our gallery grade 1/8" TruLife acrylic (like the one below from Doug Sturgess Photography).

Encapsulation – The next step is equally as important as choosing the right photo paper. Be sure to add an Encapsulation layer to your print. Not only will it protect your image, but it also prevents any possible "ghosting",  dark lines that may become visible as the Museum Back is denser then the photo, especially under gallery lights. The "base level" for this step is our Opaque Adhesive Vinyl layer, but most clients choose 3mm Black Sintra or Aluminum Dibond composite board for ultimate rigidity and durability.
Hanging – Finally, select one of (3) Museum Back (aka Float Mount) hanging options. You can add a basic wooden Museum Back, or one with the sides of the wooden frame painted black. For a true gallery-level finish, we recommend our power-coated aluminum extrusion frame. Smaller prints will ship with a wire for hanging, but for larger prints we provide an aluminum wall cleat.
Step 3: Check Out
Complete your purchase, and make sure you double-check your shipping address.
You will receive a confirmation email.

Log in

at any time to see your account and order information, and edit images you've previously uploaded.
Step 4: Light Your Print
When photos are mounted to Plexiglass it adds amazing depth and three dimensionality to your image. For that "Oh my!" moments and "Wow!" factor that you see in the galleries, the lighting of the artwork is also key. When lit properly, these acrylic photos literally glow. This isn't something that can be measured in numbers or even shown on a computer screen; you need to see these stunning prints first hand in real life to fully appreciate them.
So, now you know the "How to Print Like Peter Lik" secret to creating your very own one-of-a-kind plexiglass mounted HD photography masterpiece.
And, now that you know you're just a few quick mouse clicks away from printing like Peter Lik… Why not get started?
For more information about our company and print products, visit ArtisanHD.com.
Are you a professional photographer or artist that is interested in selling more artwork?

Download our free 2021 Artist Selling Guide now!