Updated 7.22.21
Artwork that you have printed or bought is an investment. Think of mounting and framing as preserving your asset. Choosing the right type of mounting board, matting and frame can mean the difference between the piece lasting for years or generations. So learn how to mount artwork and preserve your art.
How to Mount Artwork
Mounting artwork can be done by professionals, but with a few tips and tricks, you can work out simple ways to style and safely hang your favorite pieces yourself.
When figuring out how to hang your artwork, decide which types of wall mounts you would like to use. Museum mounts can give you the gallery look and depth not found with other mounting styles.

Step-by-Step
1. Start by inserting the mount beneath the frame of your canvas and measuring to the top. When you hold your artwork against the wall, mark the wall with a pencil at the top mid-point. You will use this as a reference for attaching the mount based on your first measurement.
2. Measure and mark where the mount should attach. Be sure to use a level when screwing the aluminum mount into place. Use anchors when mounting within drywall.
3. When secured, hang your artwork from the mount. If it appears to tilt too dramatically in one direction, slip shims beneath the uneven corner. Coins can also work well due to their thin but sturdy design.
Safe Mounting Materials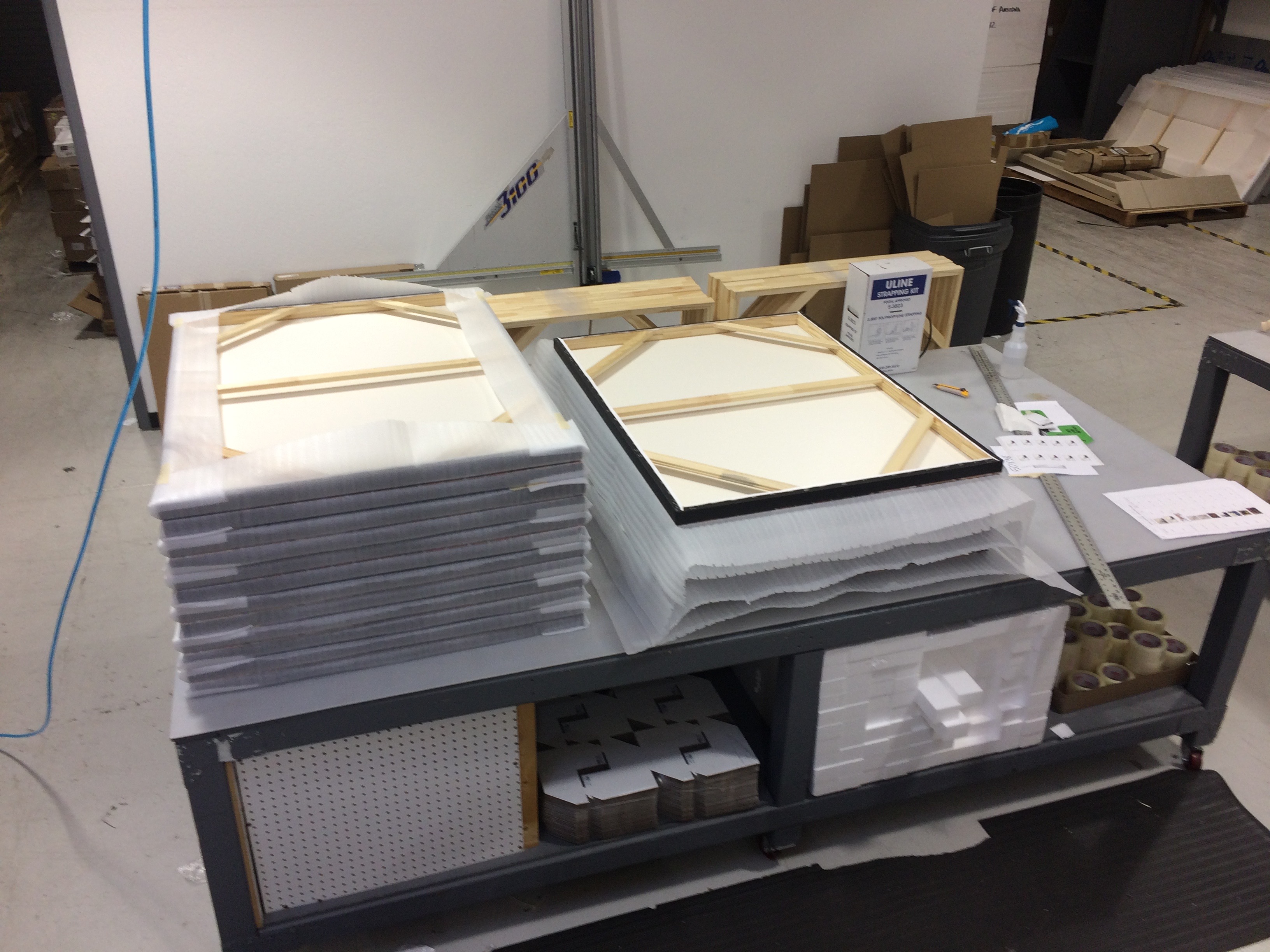 Mounting is more than just the attachment to the wall, of course. Prepare your artwork with the proper supporting materials, as well. Acid-free materials should be used when dry mounting and framing your work. This not only applies to the type of board or matting selected, but also the adhesive used to affix the print to the board.
Acid naturally occurs in materials made from wood pulp. Artwork printed on acidic materials "burns." This appears as staining, often blotchy brown or yellow spots which gives older art an "aged" look. Acid can spread from any of the materials used in mounting, so research wood frames when framing artwork, matting materials, canvas frames and adhesives to prevent staining.
Choosing Acid-Free
Whether you DIY a mount or work with professionals, get informed about which materials are acid-free. Most reputable framers will use the proper adhesive in their process, but may not use the right type of backing or mat unless requested by you; that is why you should be educated about your purchase.
Acid-free materials can sometimes come with a higher price—but when it comes to protecting valuable photo prints, this cost is well worth it. The economical frame and mat combo sold at your local craft store can seem like a great deal until it degrades your print. Be sure to do your research before you make your purchase.
Opting for Better Materials
There are several reasons to increase the quality of the materials you use when mounting your artwork. Opting for high-quality mounting materials is good for you and the planet.
If you have artwork currently framed with materials that are not acid-free, you should consider re-framing them before it is too late. The longer it stays in its current state, the more acid will continue to leach into the print. It may not show damage today, but it will over time. Restoring a print is more costly than framing it properly the first time.
Art isn't the only thing you can protect with high-quality materials. With the move toward environmental conservation, many frame companies even have lines that promote reforestation for the materials used to make their product. So you are not only preserving your artwork, but you are also supporting environmental sustainability.
At ArtisanHD, we work hard to provide you with the highest quality print available. Complement this work with the mounting materials that will preserve it best. Remember to do your research, reach out with questions, and make sure that the materials used to finish your art will keep it looking beautiful today and for years to come.
For more how-to tips, check out our tutorial videos.