So, you're in the process of decorating your living room space. You've finally found your dream furniture with all of the accents to match. There's just one final touch to complete the entire look – the artwork! You step back, take a look at your finished space and realize that something just doesn't look right. If you've found yourself in this situation, rest assured, you are not alone. Not taking the time to select wall art that best fits your given space can result in a room that feels a bit lost or incomplete. To avoid this headache in the future, we recommend that you familiarize yourself with a few different popular print sizes to ease the decision-making process of choosing the right size wall art for your space.
Most Popular Art Print Sizes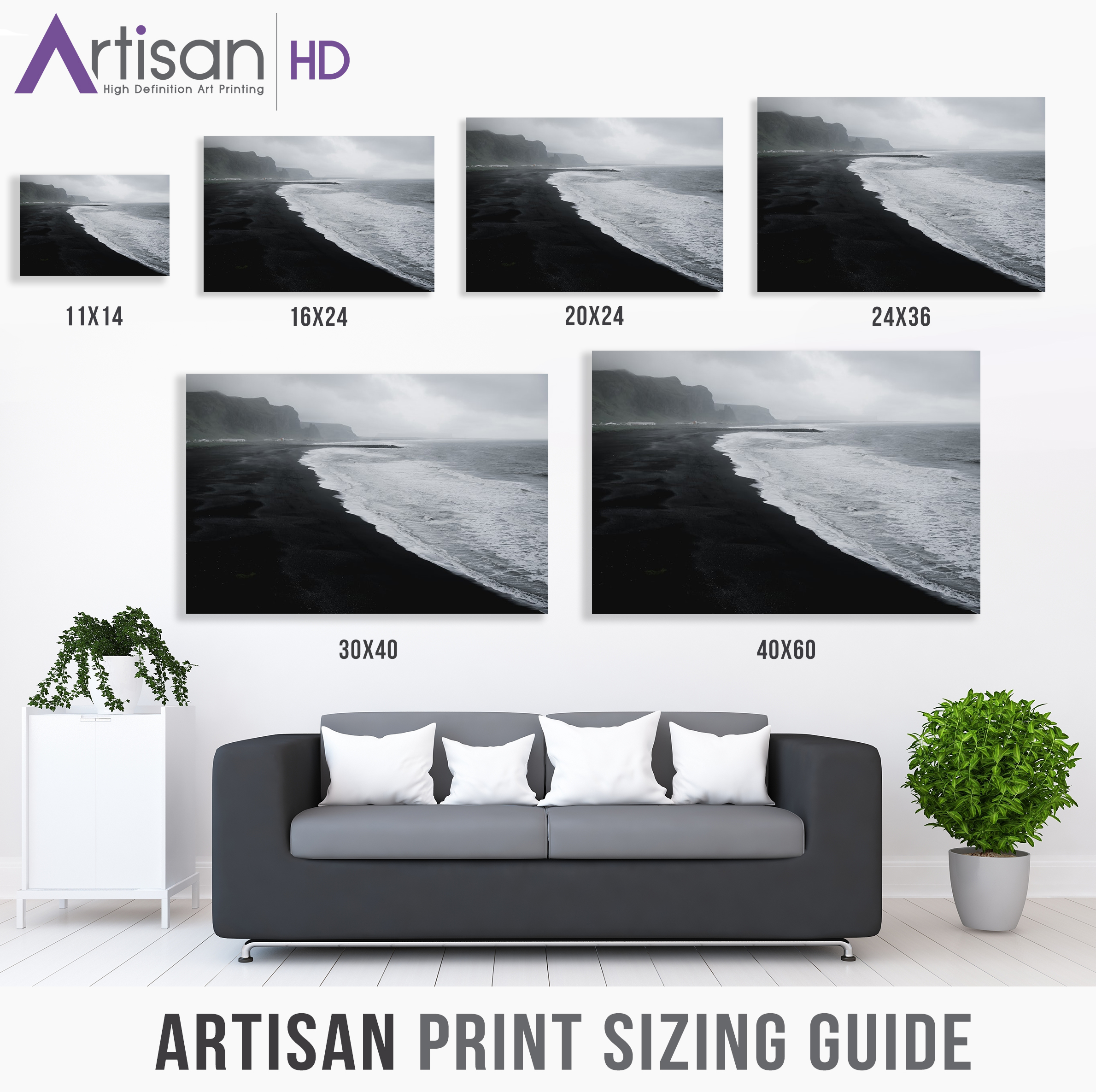 Based on our experiences in the printing industry, we were able to narrow it down to the top six standard print sizes that consumers are generally selecting for their wall art.
11 x 14
16 x 24
20 x 24
24 x 36
30 x 40
40 x 60
We've found that the majority of prints come in these particular sizes and that out of the six, you should be able to find one that works for you. These sizes cover a wide range of mediums: photographs, home decor, posters, art prints, and many other common wall pieces that you see every day. However, in those instances when you're working in a custom space – you're going to need custom sizing!
Find The Right Sized Art Print For Your Wall
So now that you know the most commonly sized framed art, how do you know what size fits your wall? As with art itself, this is a subjective question to answer, however, the general rule of thumb to find the right-sized picture for a wall is anywhere between 40% – 60% of the wall space. So if you have a 10-foot wall to occupy, a 30 x 40 or 40 x 60 picture would work.
Always keep in mind the other visual elements in a given room, where sometimes an undersized or oversized picture can be a better finishing touch than a perfectly proportioned print.
Custom Sized Prints For The Perfect Picture Fit
Sometimes a standard size just won't do. Here at ArtisanHD, we believe that our clients should have full control over the customization of their artwork. This includes the size of the art they want to be framed. That is why we've designed our online customizer to offer full range when it comes to designing your piece of art. From the size of your prints to your unique hand-selected material, it's all customizable!
Printing materials and products include canvas, brushed metal, acrylic, HD photographic papers, backlit film prints, wallpaper & more.
How To Video: Sizing and Cropping HD Images
This quick video tutorial goes a bit more in depth on how to size and crop with ArtisanHD's online customizer. You can find this video, along with a few others on our youtube channel.
Tips & Tricks
Consider these tips the next time you find yourself trying to decide on the right size wall art.
The general rule is to look for wall art that will cover 2/3 to 3/4 of your wall.
If hanging above a couch or dresser, the bottom of the piece should hang around 6 to 12 inches from the top of your furniture.
Go Big! Large pieces, including XL wall art, fill the empty void, are visually appealing and create a nice focal point for the viewer.
Try hanging multiple pieces. Small canvases, framed photos, or wall art gallery clusters and splits have the same effect as one large piece when displayed together.
We're More Than Printing, We're Artisan.
ArtisanHD is more than just a print shop, we're a printing partner. Have questions on sizing? Material? We got you. Send an email over to our professional artisan team at support@artisanhd.com with any questions that you may have.
Ready to create custom art? UPLOAD YOUR PHOTOS HERE